Determining Why Chevy Trucks Are Right for You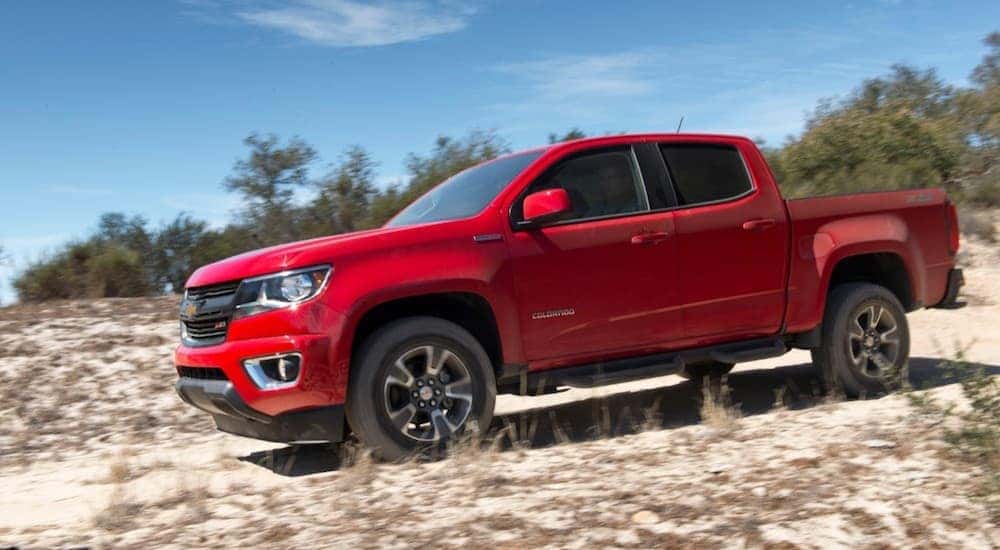 If you're interested in purchasing a truck for your next vehicle, you'll have plenty of options to choose from. However, you'll want to ensure that the brand you choose has a reputation for its dependability, power, and performance. Thankfully, Chevy trucks offer exactly that and have proven the reliability of their vehicle's across several decades of successful manufacturing. However, narrowing it down to Chevy trucks still gives you a variety of model to choose from. Should go with the efficient and capable Colorado? Or perhaps the iconic Silverado? Or, maybe a vehicle from the heavy-duty lineup is better suited to your needs? At Frank Kent Chevrolet, we are dedicated to helping you choose the right vehicle for your lifestyle and budget. So to help get you started, here's how the Colorado, Silverado 1500, and Silverado 2500 and 3500 compare.
The Chevy Colorado
Overview
The Chevy Colorado is a compact truck that has been available on the market since 2003. Known for its efficiency and class-leading performance, the Colorado has been a popular Chevy truck among consumers. Drivers investing in the newest model of the Chevy Colorado can expect to enjoy fuel economy ratings of up to 20 mpg in the city and 30 mpg on the highway. Meanwhile, drivers can still tow an impressive 7,000 LBS when properly equipped. Providing this level of efficiency and power are three available engine options, these include a 2.5L 4-cylinder engine, a 2.8L 4-cylinder diesel engine, and a 3.6L V6 engine. The Colorado's 3.6L V6 engine offers the most power and capability, while the standard 2.5L 4-cylinder engine is the most fuel-efficient selection.
Audience
The Chevy Colorado is an appropriate vehicle for a variety of consumers. Its efficiency and available configurations make it a great vehicle for commuters, and even small families. Meanwhile, its impressive level of performance also makes it the perfect vehicle for drivers looking for a vehicle to transport small to mid-size equipment or help out on the occasional moving job. The Chevy Colorado is also a popular option among consumers looking for a capable truck on a budget, as its low starting MSRP makes it highly affordable. However, drivers looking for the ultimate in power may want to consider a full-size Chevy truck or one of the heavy-duty options.
Specs
Sometimes reviewing some of the most important specs of any vehicles of interest make it easier to determine which model is the right choice for you. So, here are the stats, when properly equipped, for the 2019 Chevy Colorado to help get you started:
MSRP: $21,300
MPG: 20 City/30 Highway
Max Towing Capacity: up to 7,000 LBS
Max Horsepower: 308 hp
Max Torque: 369 lb-ft
Max Seating: 5 Passengers
The Chevy Silverado 1500
Overview
The Chevy Silverado 1500 is an iconic vehicle and one of the most popular Chevy trucks on the market. Whether you're purchasing a new or used model, you can expect a high level of performance and capability from this full-size truck. From the 2019 Chevy Silverado 1500, drivers can choose from four impressive engine options. These include:
2.7L 4-Cylinder Engine
4.3L V6 Engine
5.3L V8 Engine
6.2L V8 Engine
When equipped with the 6.2L V8, the 2019 Chevy Silverado produces an incredible 420 hp and 460 lb-ft torque. This power fuels the Silverado's high maximum towing capacity of 9,900 LBS, making this full-size truck the perfect fit for the worksite. Compared to other vehicles in its class, the Silverado offers high fuel economy ratings. In fact, drivers investing in the newest Silverado can enjoy up to 20 mpg in the city and 23 mpg on the highway when the vehicle is equipped with its standard 2.7L 4-cylinder engine. Fuel efficiency ratings do drop slightly among the more powerful engine options, however they still remain satisfactory compared to contenders.
Audience
The Chevy Silverado 1500 is an excellent selection for drivers who need plenty of performance. Whether you're looking to occasionally tow heavy recreational equipment or regularly transport equipment to and from the worksite, the Silverado will have you covered. For most drivers, the Silverado's maximum towing capacity of 9,900 LBS is more than enough capability. However, drivers looking to tow even larger loads will want to consider heavy-duty Chevy trucks instead.
Specs
Here are a few of the key specs from the 2019 Chevy Silverado 1500, when properly eqipped:
MSRP: $28,300
MPG: 20 City/23 Highway
Max Towing Capacity: up to 9,900 LBS
Max Horsepower: 420 hp
Max Torque: 460 lb-ft
Max Seating: 6 Passengers
The Heavy-Duty Lineup
Overview
Chevy offers several heavy-duty options for drivers who need the ultimate in power and capability. Among the most popular of these vehicles are the Chevy Silverado 2500HD and Chevy Silverado 3500HD. These vehicles offer a true boost in power, producing up to 445 hp and 910 lb-ft of torque when equipped with the available Duramax 6.6L Turbo Diesel V8 engine. When it comes to towing capacity, the new Chevy Silverado 2500HD offers a 15,400 LB maximum capacity, while the new Chevy Silverado 3500HD offers a 23,100 LB maximum capacity. This offers enough power to tow medium to large excavation equipment, large recreational vehicles, and large boats with trailers.
Audience
The Chevy Silverado 2500 and Chevy Silverado 3500 are best suited to drivers who require an extreme level of power and capability. These are popular models for drivers who frequent the worksite, and can often be found among the lineups of many small business owners. While the Silverado 1500 and Colorado are Chevy trucks that appeal to a wide variety of drivers, the Silverado 2500 and 3500 are certainly geared towards a more specific audience.
It should also be noted that Chevy offers additional models to suit the needs of small business owners. The entertainment and convenience features available onboard Chevy trucks can also be specifically customized to make your new vehicle your mobile office. If you're interested in purchasing a commercial Chevy truck, contact Frank Kent Chevrolet to learn more about our available options or check out our easy to navigate website. We've helped many small business owners customize their new vehicles to carry out their day to day needs.
Specs
When properly equipped, here's how the newest models of the 2019 Chevy Silverado 2500HD and 2019 Chevy Silverado 3500HD compare to other Chevy trucks in the lineup:
2019 Chevy Silverado 2500
MSRP: $37,600
Max Towing Capacity: up to 15,400 LBS
Max Horsepower: 445 hp
Max Torque: 910 lb-ft
2019 Chevy Silverado 3500
MSRP: $40,300
Max Towing Capacity: 23,100 LBS
Max Horsepower: 445 hp
Max Torque: 910 lb-ft
Check Out Chevy Trucks at Your Local Chevy Dealer Today!
At Frank Kent Chevrolet, we are pleased to be your local Chevy dealer. From sporty sedans to versatile SUVs and to some of the most powerful trucks on the market, the inventory at Frank Kent Chevrolet is sure to have everything you're looking for in your next vehicle. No matter what type of vehicle you choose, you can feel confident that each option available on our lot is competitively priced and has been carefully maintained. Frank Kent Chevrolet also offers a number of new, used, and CPO vehicles as well. So, when you're ready to purchase your next Chevy vehicle, look no further than Frank Kent Chevrolet!