It's All About Power: The 2020 and 2021 Chevrolet Silverado 1500 Diesel Trucks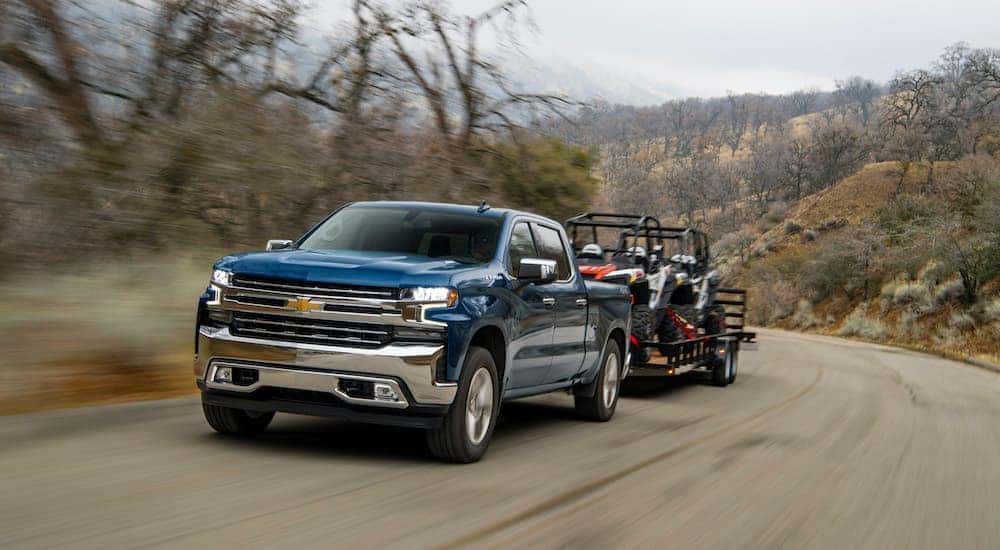 Chevrolet has a rich history that dates to 1911, when General Motors founder William C. Durant teamed up with race car driver Louis Chevrolet to launch a new automotive company. A few years later, GM purchased Chevrolet in what would become one of the most significant collaborations in automotive history. Fast forward over a century, and Chevrolet is now known for producing some of the most reliable vehicles on the road. That includes its lineup of diesel trucks that you'll find at a Chevrolet diesel truck dealer near you.
What's so special about Chevrolet's diesel trucks? The Chevrolet Silverado is one of the best-selling and most fuel-efficient full-size trucks in America thanks to its powerful engines, innovative technology, advanced safety features, and reliable durability. Chevrolet took this even further by adding the 2020 and 2021 Chevrolet Silverado 1500 to the Chevrolet diesel truck lineup. How so? Let's find out.
Horsepower and Torque: Duramax Powertrain
The most impressive feature on the 2020 and 2021 Chevrolet Silverado 1500 is the diesel powertrain option that gives the Silverado even more capability. The powertrain is the same across the 2020 and 2021 models and is the Duramax 3.0-liter turbo diesel engine that is paired with a 10-speed automatic transmission. This combination delivers 277 hp and an impressive 460 lb-ft of torque. The engine also features automatic stop-start technology that boosts fuel efficiency to an impressive 23 MPG in the city and 33 MPG on the highway, making it the most fuel-efficient full-size truck in its class.
The Duramax Diesel vs. Other Chevrolet Powertrains
How does the Duramax compare to the Silverado's other powertrains? Chevrolet offers four additional powertrain options on the Silverado 1500 that are designed to meet a variety of driver needs. The base engine is the 4.3-liter EcoTec3 V6 that features active fuel management to boost efficiency and performance. The engine is paired with a 6-speed automatic transmission and delivers 285 hp, slightly more than the Duramax, and a modest 305 lb-ft of torque.
The next powertrain option is the 2.7-liter turbo engine paired with an 8-speed automatic transmission that produces 310 hp and 348 lb-ft of torque. While this engine produces more horsepower, it fails to compare to the Duramax's torque rating. This explains why the Silverado 1500 diesel is ideal for hauling heavy loads.
From there, the Silverado 1500 has two 5.3-liter EcoTec3 V8 variants – one with dynamic fuel management and one with active fuel management. The dynamic fuel management system balances power with fuel economy by utilizing only the cylinders needed to perform. In contrast, the active fuel management system alternates between four and eight-cylinder modes to enhance performance. For the Silverado 1500, both 5.3-liter engines produce 355 hp and 383 lb-ft of torque. However, the dynamic engine comes with an 8 or 10-speed automatic transmission with stop-start technology, while the active engine comes with a standard 6-speed automatic transmission.
The final powertrain option is the 6.2-liter EcoTec3 V8 with dynamic fuel management. This option produces 177 more horsepower than the Duramax by delivering 420 hp and 460 lb-ft of torque. Also paired with a 10-speed automatic transmission, the 6.2-liter boosts the Silverado's towing ability to a maximum of 13,400 lbs in the 2020 model year, which is noticeably more than the Duramax's maximum of 9,500 lbs. on 2021 models. However, the 6.2-liter is only rated at 16 MPG in the city and 21 MPG on the highway.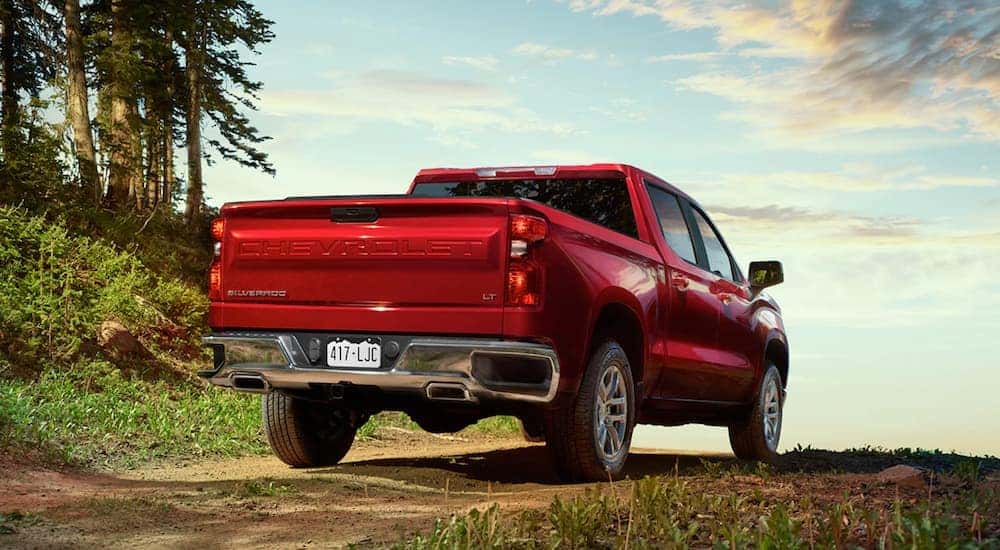 What It All Means
While the 6.2-liter V8 engine is more powerful than the Duramax, the Duramax diesel produces more torque, which reflects its ability to haul heavier loads more efficiently and without impacting performance. This is a huge selling point for drivers looking for more consistent power across longer hauls and highway miles. Fortunately, this is exactly what you'll find on the 2021 Silverado as Chevrolet confirmed the newest Duramax adds 1,900 lbs of trailering capacity to nearly every truck configuration. What's even better is that this doesn't come at the cost of fuel efficiency, with the Duramax still boasting an impressive 33 MPG on the highway.
Stress-Free Towing
The Silverado 1500 diesel is designed for towing large loads, and that's exactly why Chevrolet pulled out all the stops. The 2020 and 2021 Silverado feature the latest in towing technology to ensure drivers can efficiently haul the heaviest loads with confidence and peace of mind. This technology includes an In-Vehicle Trailering System, which is an app that features custom trailer profiles, pre-departure checklists, tire and lighting diagnostics, and more.
Beyond the In-Vehicle Trailering System, Chevrolet offers advanced trailering technology. This technology includes Trailer Sway Control that ensures the stability of both the truck and the trailer. Other technology includes Trailer Theft Alert, Electric Parking Brake Hookup Assist and Brake Gain Memory, Hill Start Assist, and Auto Grade Braking. One of the most notable features is the trailering camera system that offers up to 15 different camera views from around the truck and the trailer that makes hitching up to a trailer or traveling through traffic easier than ever.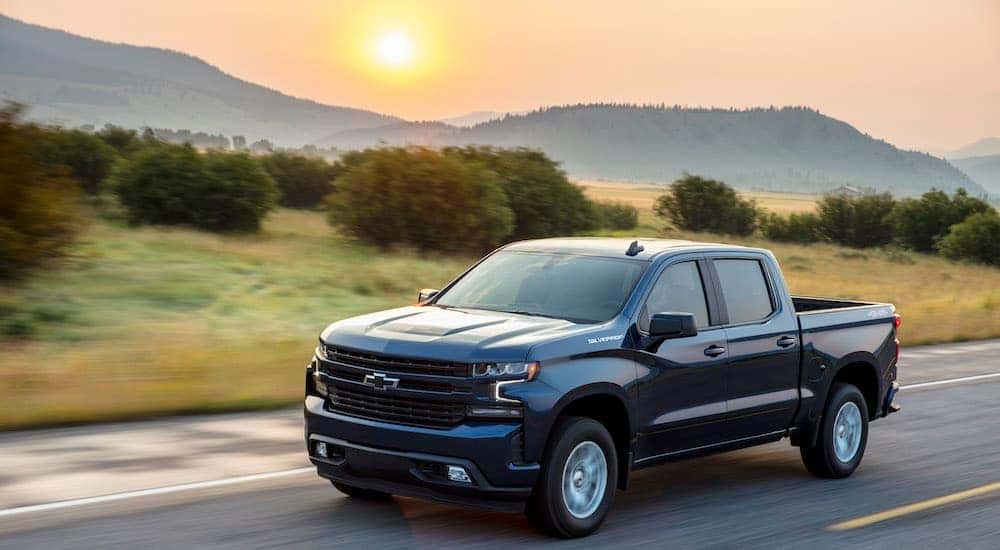 The Latest in Technology and Safety
Aside from the impressive Duramax powertrain and towing capabilities, the full-size Silverado 1500 also boasts a variety of technology and towing features that enhance the driving experience and add to Chevrolet's lineup of diesel trucks. Both the 2020 and 2021 Silverado 1500 offer the latest in technology, beginning with an available Head-Up Display that enables drivers to keep their eyes on the road thanks to a 15-inch display that projects pertinent information like speed, navigation, and other alerts on the windshield. The newest models also feature the latest in connectivity, including Apple CarPlay and Android Auto integration, as well as a 4G LTE WiFi hotspot that ensures drivers are constantly connected.
In addition to offering the most advanced technology, the Silverado 1500 diesel trucks also include the best in safety. Chevrolet's safety suite includes various standard and available features that give drivers more security behind the wheel. These features include collision avoidance features like Forward Collision Alert, Automatic Emergency Braking, and Front Pedestrian Braking. Other features include Lane Change Alert with Side Blind Zone Alert, Rear Cross Traffic Alert, a Following Distance Indicator, Lane Keep Assist with Lane Departure Warning, Front and Rear Park Assist, and a Safety Alert Seat.
Visit Frank Kent Chevrolet for Your Chevrolet Silverado Diesel
Are you ready to get behind the wheel of a Chevrolet Silverado 1500 diesel truck? If so, it's time to head on over to Frank Kent Chevrolet in Ennis, Texas. Our team is excited to meet you and help you find the perfect Chevrolet truck, car, or SUV for your driving needs! If you're looking for a reliable truck that's capable of hauling heavy loads without sacrificing performance or fuel economy, then a 2020 or 2021 Silverado 1500 diesel might be the perfect choice for you. You can browse our inventory online or visit our dealership at 401 S. Interstate 45 in Ennis. Either way, our team is ready to serve you and help you find the perfect vehicle that will fit all of your personal requirements.