Off-Road Trucks – Chevy Colorado ZR2 vs Jeep Gladiator Rubicon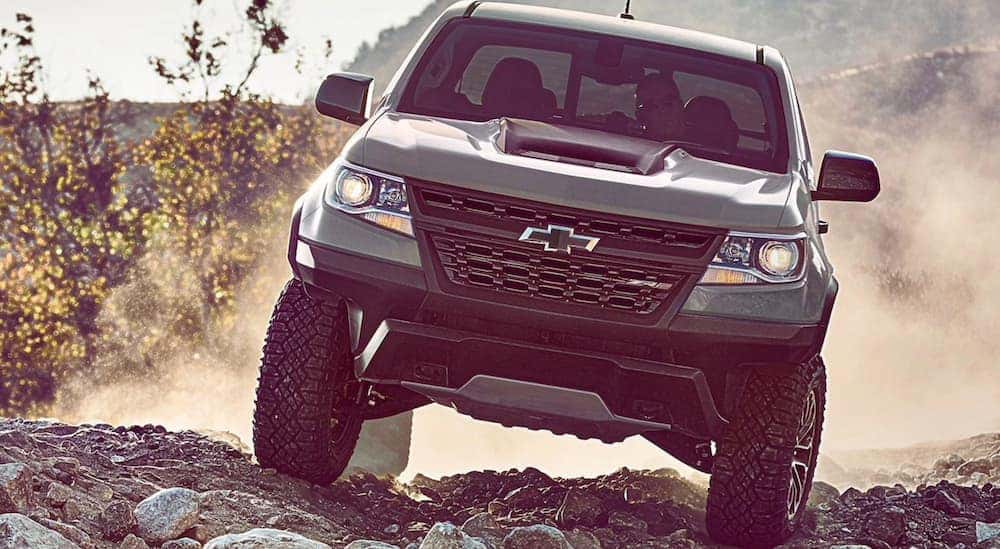 Pickup truck sales have been increasing over the years, with more and more buyers opting for the new generation of midsize trucks. One advantage of owning a midsize truck is that you get a blend of economy and function. That is, you aren't going to break the bank at the gas station to drive a vehicle with off-road capabilities. Some might argue that a midsize pickup truck is no match for a full-size vehicle in terms of off-road capabilities and power, but we are here to disprove that assumption. At our Chevy dealership, you will find the Colorado ZR2 – a midsize truck with outsized capabilities. Just how good is the Chevy Colorado ZR2? Let's stack it up against another off-road truck, the new Jeep Gladiator Rubicon.
Midsize Trucks are Exceptional
There are far more differences between full and midsize vehicles than just the raw physical dimensions. For example, midsize trucks often offer better maneuverability. It is more difficult to park a full-size vehicle, especially in a cramped parking lot, than it is to park a smaller midsize truck. This also holds true when making certain maneuvers while driving, like taking a U-turn in a side street, for example. And not that everyone would ever admit it, but driving a full-size vehicle can be stressful, especially if you aren't used to it. Many drivers prefer the comfort and ease that a midsize truck provides.
Fuel economy is another reason many will opt for a midsize vehicle like the Chevy Colorado. Full-size trucks admittedly offer a lot of power, but you pay for that at the gas pump – literally. A midsize truck allows you to drive a vehicle with power, that has the ability to tow, and that can transport large items in the bed while spending less time at gas stations. What more can you ask for if you are hunting for a true do it all vehicle?
Big trucks are great when you need to haul construction supplies or tow a camper. But face lets it, most of us spend our time accomplishing errands that don't require the use of a big vehicle. We haul groceries from the store to our homes far more often than we haul rocks to landscape our gardens. Midsize trucks are just more practical for most of us, plain and simple.
Unfortunately, the Jeep Gladiator Rubicon falls short on practicality in a few key ways. For example, the 2020 Rubicon gets 19 MPG combined with its base engine, while the Chevy Colorado will net you 22 MPG combined. That is a fairly large difference that will affect the pocketbook when commuting or on long trips. The Gladiator also offers a smaller bed even though it is a larger vehicle.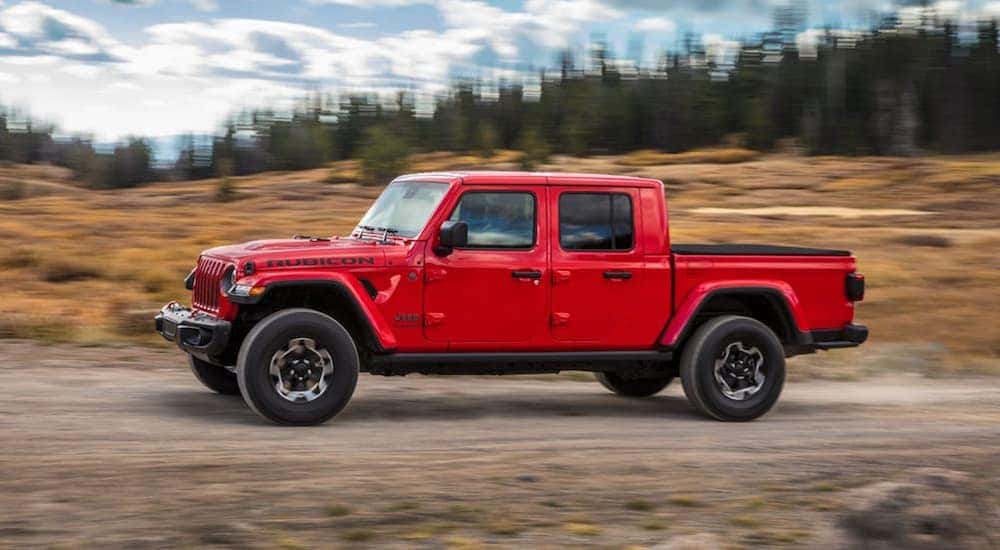 Excellent Off-Road Vehicles
The Colorado ZR2 is a special kind of pickup truck. In addition to being a great vehicle to drive on the road, it performs extremely well off the road as well. And while the Colorado ZR2 is one of the smaller trucks in the Chevy lineup, it still has some impressive off-road chops. Even before upgrades, it is perfectly capable of speeding across the frozen tundra or charging through rough terrain.
When looking at the Chevy Colorado and the wider stance, aggressively shaved bumper, and rugged styling, it clearly comes across that this is a truck meant for business. The ZR2's standard 3.6-liter V6 delivers an impressive 306 hp, which is more than enough to get you to your off-road destination. If off-action is what motivates you, then you can't go wrong with the Chevy Colorado ZR2.
The Jeep Gladiator Rubicon is an admirable off-road vehicle as well, with a few small issues. For example, sometimes it's better to have a smaller, more maneuverable vehicle when off-roading, so the midsize Colorado holds a slight advantage in this case. The Gladiator was built for handling off-road conditions, but this takes away from a smooth ride on the highway. The Chevy Colorado offers a smoother ride, which is a big deal if you expect to be driving on paved roads most of the time.
Comfort and Safety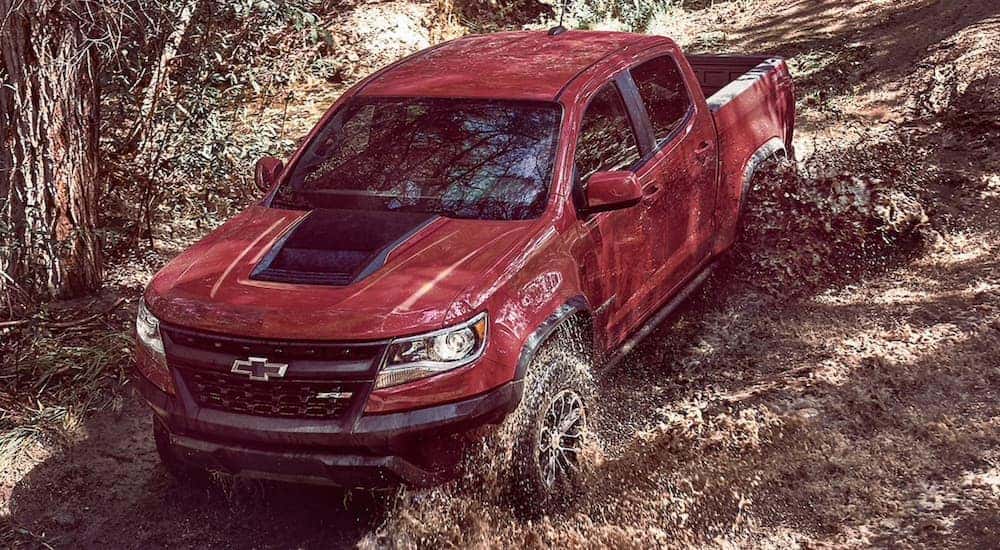 The Gladiator has a reputation for having a somewhat loud cabin, probably because it doesn't employ the noise reduction materials that many other vehicles offer. On the other hand, Chevy offers a plethora of features and options that make the interior comfortable, quiet, and safe. The Chevrolet Colorado offers a spacious cabin with plenty of compartment space to store the items you need.
The 2020 ZR2 will keep you and your family informed and plugged in with the standard Chevrolet infotainment system. With an 8-inch touchscreen, all of your entertainment and communication needs are at your fingertips. Apple CarPlay and Android Auto allows you to access emails, texts, and make phone calls without having to take your hands off the steering wheel or take your eyes off the road. And your family will appreciate the fact that everybody can keep their laptops, smartphones, and tablets charged. After all, a happy family makes for an enjoyable road or camping trip.
The 2020 Colorado offers plenty of safety features as well. In addition to six standard airbags, Chevy offers StabiliTrak electronic stability control, which is a stability control system that does a lot more. For example, the system can identify when the driver loses control of the vehicle and then applies brake pressure and lowers engine power to avoid an accident.
The ZR2 is pretty quick, and the ride is smooth to boot. The Multimatic shocks are worth their weight in gold, and you may not even notice when you go over that bump or hit that pothole. The Chevy ZR2 makes it difficult to tell if you are driving on the highway or driving on an unpaved trail. In comparison, the Jeep Gladiator Rubicon is a bit of a stiff ride, and you can bet you feel those bumps and potholes in the road.
The Chevy Colorado ZR2 is a Bargain
You can own a 2021 Chevrolet Colorado ZR2 for as little as $41,600. With optional features such as the Duramax Turbo-Diesel engine or 17-inch gloss black aluminum wheels, you can get the Colorado ZR2 of your dreams without needing to take out a second mortgage on your house. The 2021 Jeep Gladiator Rubicon is going to cost you a bit more with its starting price of $44,120. And if you want all of the bells and whistles, that price will climb considerably higher.
So whether you are looking into a vehicle that does great in off-road conditions or you desire a midsize vehicle for everyday driving, the Chevrolet Colorado ZR2 is an excellent choice. With the Chevy Colorado, you can expect good gas mileage, a smooth ride, and the power to get you where you need to go. In addition, the Chevy Colorado ZR2 offers all of the tech and safety features that you desire to ensure a safe and comfortable ride. The Chevy Colorado is yet another reason why America loves everything Chevy has to offer. Swing by Frank Kent Chevrolet in Ennis and test drive a Chevrolet Colorado ZR2 today. It will be a trip you won't regret.