Yes, Your Local Chevy Dealership is More Reliable Than the Internet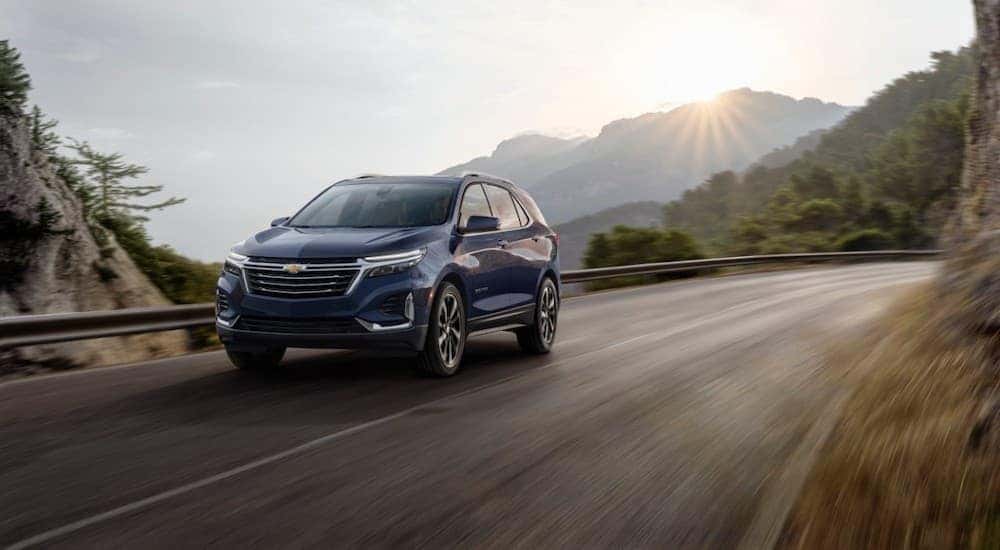 You can scour the internet for information on new and upcoming vehicles, and you might find yourself a wealth of information. However, not everything you read online can be deemed reliable. Sometimes, it can be difficult to know where to go to find accurate specs and model information on new vehicles – especially vehicles that have not technically been released yet. When looking for facts and figures about new 2022 Chevy SUVs such as the Traverse and Equinox, the best place to go is right to the source – and that's your local Chevy dealership.
The team at your local Chevy dealership will likely have all the latest information regarding any new Chevy vehicle, even if that vehicle hasn't quite been released yet. There are so many vehicles available for drivers to purchase these days that it can almost be overwhelming. Once you've settled on either a car, truck, SUV, or van, now you need to weed through all the varying options within those categories. Many car manufacturers, for example, make multiple models of cars, trucks, SUVs, and vans.
Finally, as if that wasn't enough to worry about, now you've got to make a decision on things like trims, packages, feature options, and so on. How on Earth are you even supposed to know where to start? Once you're through weeding through hundreds of online articles that all seem to contradict each other, if not themselves, take a deep breath and calm down.
Your local Chevy dealership is your next step. Here, you can talk to people who care more about you than website traffic, and here you can get answers to all the questions you have without feeling any undue pressure to make a purchase. Because every Chevy dealership wants to keep their customers as informed as possible, your local dealership is the best place to go to find information on 2022 vehicles.
Looking to 2022 with new Chevy SUVs
While every new 2022 vehicle will have some kind of following, this year, there are two new vehicles in particular that car enthusiasts are keeping their eyes on. SUV fans will especially be interested to learn about some of the features and updates that are expected to come with the new 2022 Chevy Equinox and 2022 Chevy Traverse. While Chevy offers several SUV models, with each SUV targeting a different segment, the Equinox and the Traverse are this year's most exciting new SUVs because of the new options and capabilities that are coming with these beautiful new SUVs.
2022 Chevy Equinox Updates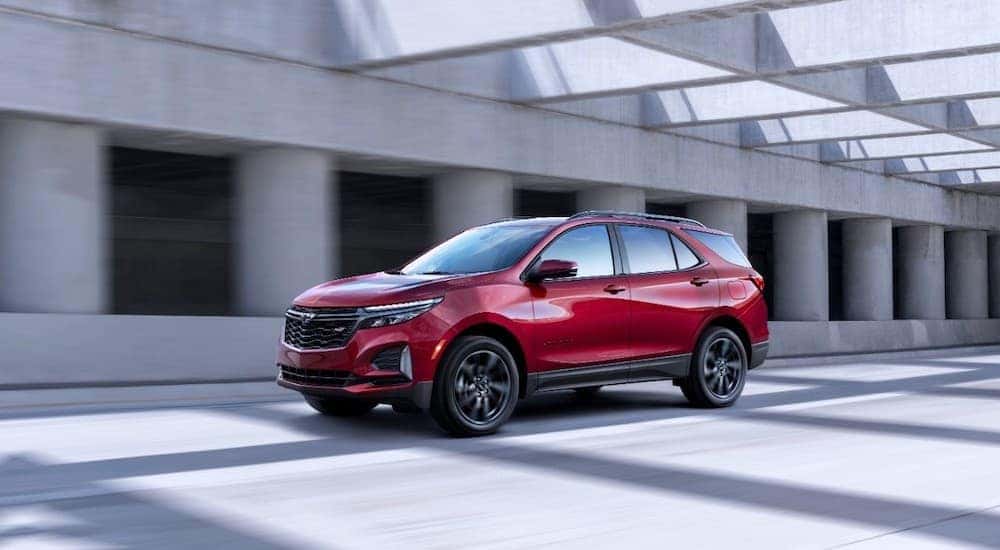 Originally, Chevy had announced that the 2021 Chevy Equinox was going to have a huge refresh with a bunch of new features and capabilities. Unfortunately, events meant that the refresh on this crossover got bumped back a year, and the 2021 Equinox is a repeat of the 2020 model. Equinox fans will have to wait until the 2022 model is released to enjoy all the fancy new features that Chevrolet has planned for us.
The Equinox is currently in the middle of its 3rd generation, which began in 2018, making the 2022 model a smooth continuation of this popular SUV. The 2020 Equinox focused on the family and had features that were especially attractive to drivers with kids, including a child-seat friendly second row and a simple infotainment system that could be used by the driver without causing dangerous distractions. So what's different about the new 2022 Equinox? How has Chevrolet improved upon an already popular SUV?
Since the 2022 Equinox is not the start of a new generation, the changes to this SUV are subtle. Still, drivers will appreciate the refreshing take on the Equinox crossover. The 2022 Equinox will be taking on a more aggressive look, with grill and headlight elements that are tougher in style than past model years. There will also be an all-new sporty RS trim, with blacked-out exterior elements, gloss black 19″ wheels, and red stitching on the interior upholstery.
2022 Chevy Traverse Updates
Similar to the Equinox, the 2022 Chevy Traverse will also be the year that sees a whole new take on this larger Chevy SUV. The Traverse will also be adopting a more assertive and tougher exterior with all-new LED headlights that take on an adjusted C-shape that is very popular with today's consumer base. The rear ends of the 2022 Traverse will also get a new update on decorative images and symbols. These are all subtle changes, but they are changes that new car shoppers will find attractive and instinctual.
The 2022 Traverse is expected to have best in class cargo space, making this new SUV the best vehicle for families who enjoy large shopping trips or regular family vacations. The new Traverse will also come with options for wireless Apple CarPlay and Android Auto, an 8″ digital driver information center, and an upgraded dual-pane power sunroof for an even higher-end feel. Because the Traverse is targeting families, and we all know families include teens with their own electronic devices, each row in your new Chevy Traverse will feature USB charging ports so that everybody can stay connected, no matter where they're sitting.
Consumers have been asking car manufacturers to update their cars' safety features for years. Furthermore, consumers are tired of being nickel and dimed every time they want to add these safety features to their new vehicles. With the 2022 Travers, Chevrolet has listened to consumers, and as a result, the new Traverse models will come standard with even more safety features than ever before, thus keeping drivers and passengers safer on the road without additional charges and package options.
Because the Traverse is so much larger than the Equinox, even though the design team is navigating towards are more rugged look, the 2022 Traverse is bulkier and boxier than the Equinox. This is not necessarily a bad thing, though, since bigger vehicles look good with boxier edges. Both the Traverse and the Equinox are expected to maintain current Chevrolet standards and ratings.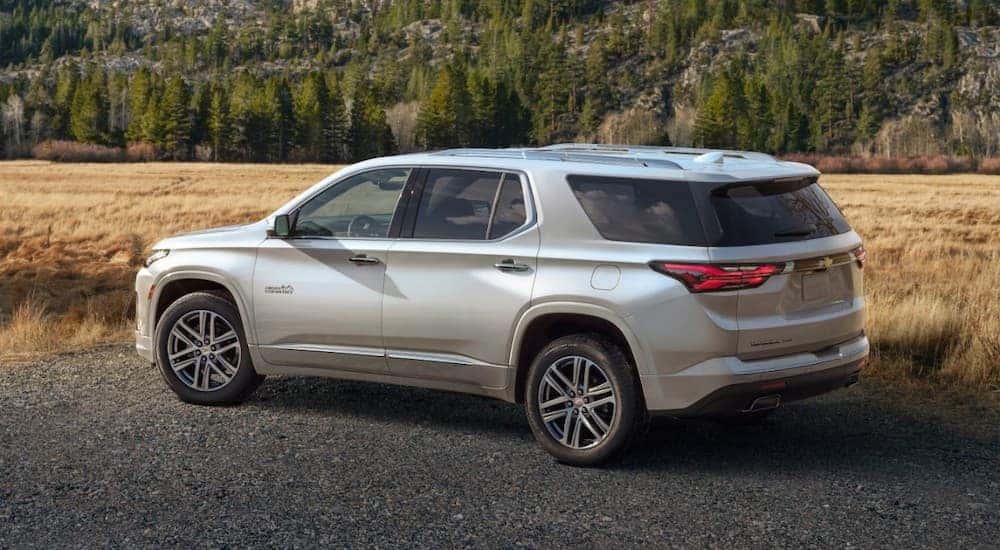 Final Thoughts
While it's going to be a long wait for the refreshing changes of the 2022 Traverse and Equinox models, this is a wait that, for most of us, will be worthwhile. The new style of these Chevy SUVs will be very attractive to many consumers. However, not everybody will want to wait another whole year for these updated models. If that's the case, there is absolutely nothing wrong with buying a 2020 or 2021 vehicle instead. Whatever model year you decide to pursue, you can rest assured that each Chevrolet comes with the high standards and dependability that we have become accustomed to over the years.
When you're ready to make a decision on a new vehicle, or if you've got more questions regarding the 2022 Equinox, 2022 Traverse, or any Chevy vehicle really, head on down to our dealership. At Frank Kent Chevrolet, you will find some of the most knowledgeable Chevy experts in Ennis, TX. We can get you answers to any question you might have on the upcoming Chevy models. So what are you waiting for? Let us help you find your dream SUV today.